Now that cloud storage is a must-have for everyone to store their information, work, and memories, USB pen drive might not be used as much as they used to. However, like everything else, USB pen drive most definitely have their pros and cons, especially when it comes to marketing a business, and we'll be talking about them today. This is now your new favorite guide to use your new custom pen drive to promote your business.
What is a USB pen drive?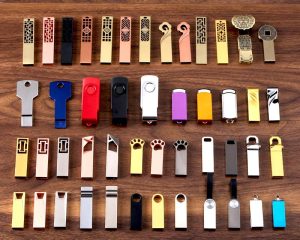 First of all, a USB pen drive is a storage device for you to save your data via your computer's USB port. Custom pen drive are convenient to use, easy to bring with you wherever you go, and they connect seamlessly to all computers.
As a business owner, however, you might want a custom pen drive as you'll be able to customize it with your company logo, your company's color book, or even a specific design that represents your company's key message.
Which custom pen drive is right for you?
Our professional's number tip? Start by determining your company's promotional pen drive storage space size. Custom pen drive are available with a large variety of sizes from as low as 512MB to 128GB. While this might sound confusing, we've got you completely covered with what these sizes are for, but you must first consider the needs of your gift receivers when selecting the memory size of your USB pen drive.

Step 1: Identify your target audience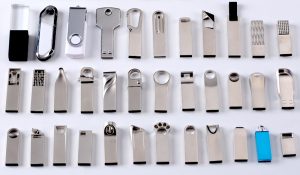 Ask yourself if your gift receivers are tech-savvy, or will only be using their new USB pen drive to store only a few pictures, videos and documents. If they're tech-savvy, pick a pen drive that is similar to what they might already own, such as one that looks trendy with more space e.g 4GB, which can store up to 40,000 documents and 2,000 photos. However, if your gift recipient won't use their new pen drive for much, maybe opt for a flash drive that can store up to 10,000 documents and 500 photos at most (1GB).
Step 2: Determine your budget
Flash drives that have a lot of space are a more exclusive gift. Thus, it is up to you to pick a budget after identifying your target audience and stick to it. While it sounds great to gift all your customers or clients a pen drive that has 8GB of space to store their data, it is also not cost-efficient. In this case, find a middle ground by finding out how much space all of your target audience will be needing to use both at work and outside of work. However, doubled storage capacity means that your customers will be using their flash drives for much, much longer, and with your logo on their new custom pen drive, you'll be able to expose your brand to the people your audience surround themselves with when they're making use of the pen drives.
Step 3: Choose your ideal gift packaging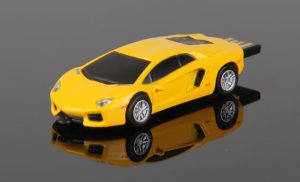 Custom pen drives usually come with compact gift box options made of materials that vary from acrylic boxes to metal boxes, to wooden boxes. Most usually come with a paper box for free, but you could always style it up for your gift recipient with a nice engraved wooden box or even a clear glass box to kick in a sense of exclusivity and class.
Step 4: Imprint a design on your pen drive
To maximize the return on your investment, be sure to imprint your logo or a design on your new promotional pen drive. Pen drives typically go through a screen-printing process for people to imprint multiple colors on them, or a laser-engraving process to imprint a single, elegant color. Most pen drives allow you to imprint on both sides, so design away!
Step 5: Market away!
There are many ways to market your brand with custom USB pen drives, these being giveaways at company or networking events, handing out USB pen drives in goody bags at roadshows, leaving a USB pen drive on each seat for your next seminar event! In addition, you can even hand them out when you're handing out a business card, this shows a hint of what your organization is about- generosity and care towards their clients, which will only attract your prospective clients even more to work with you. Who says you are your only networking tool?