Promotional wristband Malaysia come in many different materials, shapes, designs, and colors. Varying from rubber to silicone, these promotional goodies are incredibly beneficial for both the corporate gift giver and the gift receiver. Not only are they trendy and lightweight, but they can also be used as fashion accessories, and they are extremely durable too!
When choosing promotional gifts to hand out, one must take its price, durability, and the return on investments they offer into consideration. In this case, wristbands are highly durable. Some of them come with clasps and some do not, but both are stretchable and are sure to not let the logos or designs on them fade for a long time.
In addition to this, promotional wristband Malaysia are also fashionable and are great for accessorizing. Promotional wristband Malaysia and marketing go hand in hand. As a result, many companies choose to use promotional wristbands to advertise and raise awareness of their brand. These wristbands often have small logos or designs that represent the brand and are given out for charity causes, promoting causes, exhibitions, conferences, events, etc. Thus, the nicer and more versatile the design is on your promotional wristband, the more your gift receivers will wear it. This means that you'll essentially have a group of your very own walking advertisement, which will boost your brand recognition, increase your company's count in loyal customers, and expose your brand to many new, prospective customers. However, now you may ask… which wristband is the one for your brand?
1. Silicone Wristband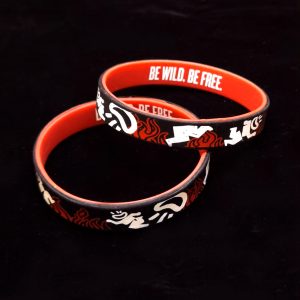 If you're looking for the perfect item to promote your brand subtly, yet stunningly? Silicone wristbands are right up your alley then! Silicone wristbands are eye-catching, versatile, good for everyday use, and most importantly, long-lasting! These easy-to-wear must-haves are tough to destroy and pretty much wear-and-tear-resistant.
When it comes to comfort, silicone wristbands promise extreme comfortability with how lightweight and stretchy they are, which is why many companies opt for them. They also work great in giveaways as they are something that clients enjoy using and reuse for months and years to come.
Silicone wristbands are also low in cost and extremely customizable. The print colours, texts, logos, and even specific designs beautifully for an eye-catching look. These new vibrant and fun accessories will brighten up any look or outfit! With silicone wristbands being non-toxic, your brand can give away these promotional gifts with peace of mind.
Further, you'll be able to live out your design dreams with your new promotional wristbands! You can go with multi-colour wristbands, wristbands that are embossed with printing, wristbands that are embossed with no printing, wristbands that are debossed, and wristbands that are silkscreen printed. There are so many ways you can go about your organization's promotional wristbands. However, be sure to keep the design versatile to wear for any function so that they are always wearable by your target audience.
2. Glow In The Dark Wristband/UV Wristband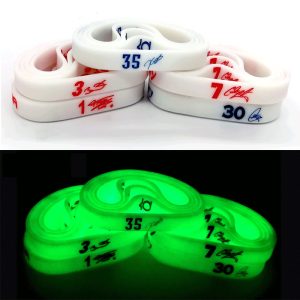 Looking for a fun twist on spin on the standard promotional wristband? Well, look no further! Go ahead and start looking into glow-in-the-dark wristbands! Glow in the dark wristbands glow when it absorbs light from any lamplight, causing it to shine in neon green, neon blue, and in some cases, yellow, orange, or pink.
The lighter the colour of the wristband is, the more vibrant the glow will end up being. And if your wristband stops glowing in the dark, all you'll have to do is place it under a lamp that's been turned on. Thus, some say that glow-in-the-dark wristbands are the most economical advertising you can get as they display your brand's logo (if imprinted) both day and night!
3. Special Wristband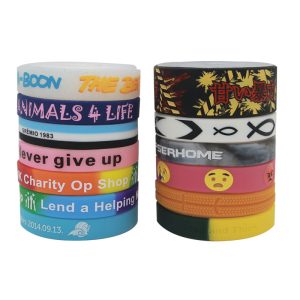 Special wristbands include QR code wristbands, button silicone wristbands, custom-made glitter covered wristbands, CMYK full color printed wristbands, glitter ink-filled wristbands, etc. For once, QR code wristbands allow you to display your company website's QR code on it for customers and prospective customers to scan in to explore more. You'll also be able to use QR code wristbands to mark attendance, identify the guest in your event, use a ticket, or use short-range access control.
CMYK full color printed wristbands, however, can be printed completely in color. Thus, you'll be able to print a lot of elements and colors to feature on your wristbands, whereas glitter wristbands are eye-catching and stunning for your event or exhibition. Therefore, they work perfectly as your brand's new merchandise!


Looking for the wristband? Find it now on our page!